Cleaning Lady is Here to Help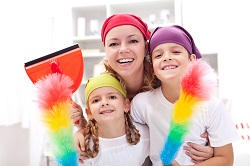 Cleaning a home is a task everyone takes part in. It is a necessary chore so that the home can be neat and hygienic. If the home succumbs to mess and dirt then you cannot feel happy, safe or comfortable there. You cannot enjoy yourselves if it is messy and visitors won't be impressed or pleased to be there. Likewise, your workplace needs to be orderly so that you and your staff can work properly. Everything has to be perfect or you could lose deals with a partners and clients. Managing all the mess though can be tough but help is available. If you want to conquer your cleaning in London then consider calling us for help. We at Cleaning Lady London can provide a top cleaning lady when you call on

.
Over the phone, we can talk to you about cleaning in general. Your home cleaning can become much easier with a quick conversation with us. Our operators can run through everything by giving you advice and tips. This will enable you to be more confident about what you have to do and learn what you may need to help. We can also run through all of our services so you can hire us to help. We can tackle a wide range of cleaning tasks from end of lease cleaning to upholstery cleaning and do things in a way they are convenient for you.
When booking our team, you will be allowed to choose what you need and what we do for you. We can assist with various cleaning chores and you will book us for when you need. We can handle one off clean or visit your home regularly. We can send just one cleaner for your chores or an entire team, whatever you need. You will book all of this with the free quotes we offer. These estimates do not have to be committed to, so you can pass on any deal. This enables you to inquire safely into what we can do for you and for you to go through several offers until you reach one that is to your liking.
The cleaner we send to your home will be fully qualified for the job. He or she will have passed all certifications and be fully accredited. Our staff will come with all proper cleaning equipment, so you don't need to provide anything. This will enable our cleaners to get the job done fully and properly. They will have the skill and expertise necessary to tackling chore, and will do it completely and safely. Our staff are friendly and flexible so they will work with you to get the best result. They will be trustworthy so there will no need to worry about them being in your home. Our cleaners will also be able to work within your home or office when you are not present without any concern being necessary.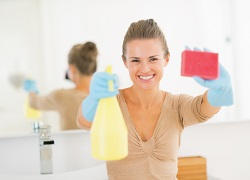 The tasks we can do are manifold. Our cleaning ladies will be capable of doing the usual things such as dusting and polishing, wiping surfaces, vacuuming floors and more. We can do more than this though, such as sanitising bathrooms and kitchens, washing windows, sorting items, removing litter, clearing garden, organising goods and much more. Our staff are also capable of removing stubborn stains. They will have the best detergents and know exactly how to remove any blemish without damaging the surface.
Cleaning Lady London can assist with all of your cleaning chores, so call us up today on

for the best cleaning ladies.